Soil fungi may help determine the resilience of forests to environmental change
Fri, 16 Mar 2018 15:38:52 EDT
A major new study reveals that soil fungi could play a significant role in the ability of forests to adapt to environmental change.
Researchers create a protein 'mat' that can soak up pollution
Thu, 15 Mar 2018 14:07:35 EDT
In a breakthrough that could lead to a new class of materials with functions found only in living systems, scientists have figured out a way to keep certain proteins active outside of the cell. The researchers used this technology to create mats that can soak up and trap chemical pollution.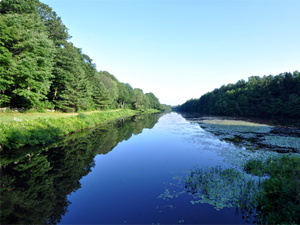 Topsy-turvy currents key to removing nitrate from streams
Thu, 15 Mar 2018 14:07:30 EDT
More than 500 years ago, Leonardo da Vinci sketched what he called 'la turbolenza,' comparing chaotic swirls atop flowing water to curly human hair. It turns out those patterns influence myriad phenomena, from the drag on an airplane's wings and the formation of Jupiter's red spot to the rustling of tree leaves.