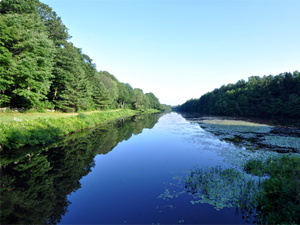 GoJelly project officially kicks off
Mon, 22 Jan 2018 11:10:39 EST
While the number of fish in our oceans continues to decrease, changing environmental conditions seem to favour jellyfish. They occur more often in large blooms. So far, they are considered annoying, if not dangerous. The project GoJelly aims to change that perception and to investigate the suitability of the organisms as microplastic filters, fertilizers or fish feed.
Heat loss from the Earth triggers ice sheet slide towards the sea
Mon, 22 Jan 2018 09:13:21 EST
In North-East Greenland, researchers have measured the loss of heat that comes up from the interior of the Earth. This enormous area is a geothermal 'hot spot' that melts the ice sheet from below and triggers the sliding of glaciers towards the sea.
Radioactivity from oil and gas wastewater persists in Pennsylvania stream sediments
Fri, 19 Jan 2018 14:11:57 EST
More than seven years after Pennsylvania officials requested that the disposal of radium-laden fracking wastewater into surface waters be restricted, a new study finds that high levels of radioactivity persist in stream sediments at three disposal sites. Radioactivity at these sites is 650 times higher than at unaffected sites upstream. The contamination comes from conventional, or non-fracked, oil and gas wastewater, which, under current state regulations, can still be treated and discharged into streams.